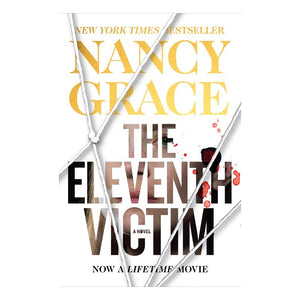 *The Eleventh Victim:
Seconds passed; minutes. She could hear movement now in the waiting room she had just left. It was the metal magazine rack she was sure, that crashed to the tile floor. Then quiet. She strained to hear in the darkness. Nothing more, and then? The air moved in the room and she knew. He was here.?

As a young psychology student, Hailey Dean's world explodes when Will, her fiancé, is murdered just weeks before their wedding. Reeling, she fights back the only way she knows how: In court, prosecuting violent crime…putting away the bad guys, one rapist, doper, and killer at a time. But dedicating her life to justice takes a toll after years of courtroom battles and the endless tide of victims calling out from crime scene photos and autopsy tables. Just as she grows truly weary, a serial killer unlike any other she's encountered begins to stalk the city of Atlanta, targeting young prostitutes, each horrific murder bearing his own unique mark. This courtroom battle will be her last.

Hailey heads for Manhattan to pick up the pieces of the life she had before Will's murder, training as a therapist. In a vibrant new world, she finally leaves her ghosts behind. But then her own clients are brutally murdered one by one by a copycat using the same M.O. as the Atlanta killer she hunted down years before. As the body count rises across Manhattan, Hailey is forced to match wits not only against a killer, but the famed NYPD.

Unless she returns to her former life and solves the case, still more innocent people will die at the hands of a killer who plans to get her, before she can get him!