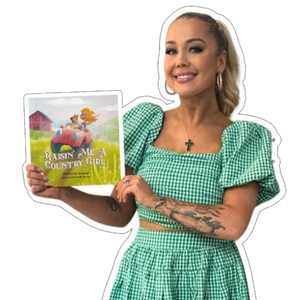 Singer-songwriter Raelynn Davis wrote this precious children's book based on her hit song, "Raisin' Me A Country Girl" about a little girl named Daisy in honor of her own baby girl, Daisy Rae.

In the story, Daisy can't wait for her cousins to arrive for tea but when Daisy realizes that her sweet Pup Pup is gone, she sets off on the farm to ask all her farm friends for help. When the hunt for Pup Pup is over and Daisy finds her sweet pup, she realizes her new dress is covered in mud.

How will her cousins dressed in their fancy dresses respond to Daisy being covered in mud for their tea party? Read and find out as you learn just what it means to be raisin' a country girl in this precious and beautifully illustrated story!