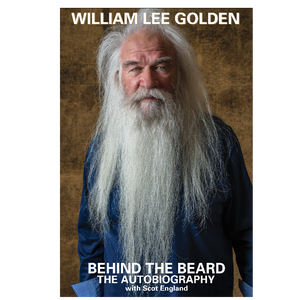 "When you write your life story, and you decide to bare everything, it's kind of scary. It feels a lot like getting naked…in front of the entire world. Now that I've committed to it, there is one thing going through my mind…if I was going to get naked in front of everyone, I probably shouldn't have waited until I was 82 years old!" – William Lee Golden
The wait is over! And it was worth the wait.
William Lee Golden finally tells all!
William's new autobiography "Behind the Beard" is an amusing, poignant and brutally honest memoir. 
Told in William's own words, "Behind the Beard" includes: 
William's memories of his childhood and teenage years; and how he went from the cotton fields of Alabama to singing on stage with his favorite musical group.

William's vision of turning a gospel group into one of the biggest acts in country music history.

His wife's one-of-kind reaction when she learned he had been unfaithful.

William's stories of 50 years on the road with the Oak Ridge Boys.

The real reason he was fired by the group.

How he made his "Prodigal Son" return to the Oaks.

What the future holds for William Lee and the Oak Ridge Boys.
Of course, "Behind the Beard" also answers the questions of: When and why did he start growing his beard, and will he ever cut it? The answers might surprise you!
This deluxe, hard cover book includes over 200 rare, never-before-seen photos from William's personal collection!
"William Lee Golden is a lot of different things to a lot of different people. But he is a person who knows who he is. He has dedicated his life to helping people. William is a man of integrity and honesty, and you will read his very honest words in this book." - Jim Halsey
"William Lee Golden is a star. When he walks in the room, head's turn. He's like a cool version of Gandhi." – Tony Brown
"I know William has a lot of stories he wants to tell in this book, and I support him 100 percent. He has a lot of fans who want to read about the interesting life he has led." – Duane Allen
"I am honored to be a part of William's book, and I look forward to reading it. Imagine that…I'm with the guy almost every day of the year, and I'm still looking forward to finding out things that I don't know about the man." - Richard Sterban
William Lee is the face of the Oak Ridge Boys to many people. When people think of the Oaks, they think of that guy with the beard. Of course, he's much more than that…as you are about to find out." – Joe Bonsall