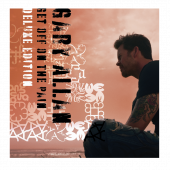 Gary Allan's cd, Get Off On The Pain release date March 9, 2010.

*Track Listing:

1. Get Off On The Pain

2. I Think I've Had Enough

3. Today

4. That Ain't Gonna Fly

5. Kiss Me When I'm Down

6. We Fly By Night

7. When You Give Yourself Away

8. Along The Way

9. She Gets Me

10. No Regrets

Deluxe edition features 14 tracks including the hit "Today," 4 bonus tracks and access to exclusive video downloads from Gary.