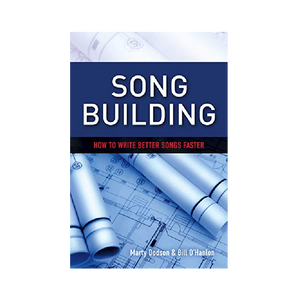 Title: Song Building: Mastering Lyric Writing
Authors: Marty Dodson & Bill O'Hanlon
Description: Have you ever been frustrated when people don't get what you're trying to say in your song? Are you tired of waiting on inspiration to complete your songs? Are you not getting the response you hoped for from your songs? Is the songwriting process painful at times?

Song Building will help you:
Write songs faster
Avoid getting stuck on second verses
Generate song ideas and lyrics without waiting for inspiration to strike
Make your co-writing sessions go faster and easier
Upgrade your song lyrics to make them communicate better to your listener
Marty Dodson, a Nashville-based songwriter, has written six #1 songs in Country, Rock, Pop, Bluegrass, Americana, Christian, K-Pop and J-Pop genres. His songs have been recorded by artist including Joe Cocker, Carrie Underwood, Rascal Flatts, Kenny Chesney, Billy Currington, The Plain White T's, Don Williams, Johnny Reid, Diamond Rio, Buddy Jewell, Lonestar, Billy Ray Cyrus, John Michael Montgomery, The Oak Ridge Boys, Ricochet, Craig Morgan, Tracy Lawrence, Saving Jane, Big and Rich, the Steep Canyon Rangers, Songs From The Road Band, and most recently, Blake Shelton. Over his 25-year career, he has written more than 7500 songs. His greatest musical accomplishment to date is knocking Psy out of #1 in South Korea with his song "Bounce" which went on to become the Asian and Korean Song of The Year.
Bill O'Hanlon is the author of over thirty books, one of which, Do One Thing Different, was featured on Oprah. He lives part time in Nashville and is an aspiring songwriter.